Mp3 My MP3 Recorder 3.1

Mp3 My MP3 Recorder - Record internet radio, save to mp3 or wav.

Developer:
Digital Liquid
software by Digital Liquid →
Price:
0.00
License:
Freeware
File size:
0K
Language:
OS:
Windows Vista

(?)

Rating:

0

/5 (0 votes)
Mp3 My MP3 Recorder - Record internet radio, save to mp3 or wav. Record streaming audio from the internet, microphone or any other source for that matter, works directly with your system sound card sooooo... If you can HEAR IT...you can RECORD it!

Mp3 My MP3 Recorder is meant to be extremely intuitive to use, with enough features to get the job done quickly and easily. Use the scan tool to list all Mp3's and Wav, Aif, Swa or Sun Au audio files on your entire computer, can play and record portions of any of these files. Customizable colors, timer, on top mode and skinning is also included.
tags

can recorder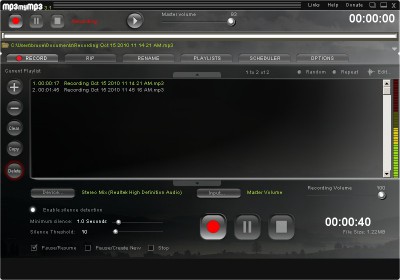 Download Mp3 My MP3 Recorder 3.1

Download Mp3 My MP3 Recorder 3.1

Authors software

Mp3 My MP3 Recorder 3.1
Digital Liquid

Mp3 My MP3 Recorder - Record internet radio, save to mp3 or wav.

The Great Kazoo 1.3
Digital Liquid

Create Chaos driven Music.

Liquid Saver 1.2
Digital Liquid

Not only does it save your monitor but it's a crazy (it might drive you crazy) video game as well.

Digital Image Tool 4.2.2
Digital Liquid

Do you take any photographs, own a digital camera or work in multimeda or design? Digital Image Tool is a free and user friendly tool that was created specifically to batch process images quickly, applying flexible resizing methods, rotation, cropping, scaling, watermarking, renaming and more.

Babble Rock 1.0
Digital Liquid


Similar software

Mp3 My MP3 Recorder 3.1
Digital Liquid

Mp3 My MP3 Recorder - Record internet radio, save to mp3 or wav.

FREE Hi-Q Recorder 1.92
Roemer Software

FREE Hi-Q Recorder is a free sound recording tool.

Free MP3 Recorder 1.0
WORDADDIN STUDIO

Free MP3 Recorder is an application to record audio to WAV or MP3 files.

Smart PC Recorder 1.2
Freebird

Smart PC Recorder is an easy-to-use tool to record all kinds of sound from sound card into MP3 or WAV files with high quality.

Scanner Recorder (Scanrec) 1.9
davee.com

Scanner Recorder (Scanrec) is a free audio recorder that is primarily created to record speech.

SoundCopy 1.1
Measurement And Conversion Software

SoundCopy is a handy sound recording application that allowis you to record, playback, save and compress to mp3, any voice, music or sound.

Tinynice MP3Recorder 1.00
Tinynice Software

MP3Recorder is a sound record utility, it can records any audio source from your computer to MP3 audio directly without temporary WAV files generated.

oRipa Screen Recorder 1.2.0
EjoyStudio

oRipa Screen Recorder is a handy application that helps you record your Windows desktop activity in real time and save it as a video file.

Skype Recorder 3.2.1
SkypeRec

Skype Recorder is a great new recording tool that works in conjunction with Skype.

Express Burn CD/DVD Burner 3.03
NCH Swift Sound

Express Burn is a program for Windows that lets you create and record audio or data CDs with any PC with a CD recorder installed.
Other software in this category

Pocket Voice Recorder 3.4 Build 34021019
XemiComputers Ltd.

Pocket Voice Recorder is freeware sound recorder that records equally well from microphone and any other input line available with your sound card.

Audacity 1.2.6
Audacity

Audacity is a free audio editor.

MP3 Splitter 2.0 Final
Hans-Jörg Happel / codevisions

MP3 Splitter allows you to split MP3-files either by size or by time.

Mp3 Turbo Injector 1.5
ULTIMATE SYSTEMS

MP3 Turbo Injector is a 32-bit application for Windows, which inserts a MPEG audio (MP3) file into another MP3 file.

mp3DirectCut 2.05
Martin Pesch

mp3DirectCut is a very small program that helps you edi MPEG audio directly.