MP3 Hint 2.00

MP3 Hint is an InfoTip Shell Extension.

Developer:
Piotr Chodzinski
software by Piotr Chodzinski →
Price:
0.00
License:
Freeware
File size:
0K
Language:
OS:
Windows Vista

(?)

Rating:

0

/5 (0 votes)
MP3 Hint is an InfoTip Shell Extension. After installation, hovering the mouse cursor above any MP3 file icon will display a hint which will contain informations extracted from the TAG of this MP3 file.

You'll see title, artist, album, year, comment, genre and track number. Also this hint will contain two additional handy informations extracted from the MP3 file: song's bitrate and duration.

This extention can be very useful when you have a lots of files with meaningless names as e.g. Track23.mp3. With help of MP3 Hint you will fast recognize any MP3 file, without necessity of loading this file into a MP3 player.

I'm sure you will appreciate advantages of this extension when you will be renaming your music files, copying choosen compositions for someone, or browsing someone's music collection in the local network - you don't need to download whole file anymore to see what song it is, just hover your mouse cursor over its icon.

If you like this program, please tell a friend about it :).
tags

mp3 file you will from the when you extracted from will contain mouse cursor any mp3 mp3 hint informations extracted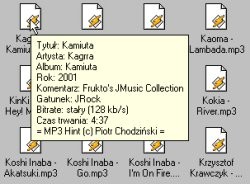 Download MP3 Hint 2.00
Authors software

MP3 Hint 2.00
Piotr Chodzinski

MP3 Hint is an InfoTip Shell Extension.

Rainbow Folders 1.02
Piotr Chodzinski

Rainbow Folders is an easy to use tool, which allows you to change color of the icon representing chosen folder to any color you like.

Tooler 1.00
Piotr Chodzinski

Tooler is a unique program that allows you to create special type of shortcuts.

Kolorowanka 2.01
Piotr Chodzinski

Kolorowanka is a software that can be used for coloring images, just like in the coloring books.
Similar software

MP3 Hint 2.00
Piotr Chodzinski

MP3 Hint is an InfoTip Shell Extension.

InfoTag Magic 1.0 b5
ContextMagic.com

InfoTag Magic is a Windows shell infotip extension that displays the title, artist, album, year, bit rate, duration and other information stored in the tag fields of MP3, WMA and Ogg Vorbis files in a tooltip window when mouse pointer is hovered over a file in Windows Explorer.

JeniuS 1.64.4
JockerSoft

JeniuS is an universal file organizer.
Print Hint 0.3
Tony Murray

Print Hint helps you to quickly find printer-friendly versions of webpages.

AudioShell 2.3.6
Softpointer Inc

AudioShell is a MS Windows Explorer shell extension plugin which will allow you to view and edit music files tags directly in Windows Explorer.

Stamp ID3 Tag Editor 1.00
NCH Swift Sound

Stamp ID3 tag editing software is a free and useful audio file tag editor for windows.

FileSpider 1.0
Mercury

FileSpider is a spider that crawls for shared files in your local network, allowing you to search for those files quickly.

Icons from file 5.1.1
Vitaliy Levchenko

Extracts icons or icon arrays from files (EXE, DLL, OCX, etc.

Jukes 4.1.0.34
Melloware

Jukes was created for the serious music lover! Jukes was created to rip full CD's or possibly entire CD collection to hard drive.

Tag Editor Pro 3.1.7
TFM Group

Tag Editor Pro was created for REAL converting File Name to ID3 Tag (and ID3 Tag to File Name).
Other software in this category

ID3KILL v1.4
HeadStrong Software

ID3KILL removes and lists ID3v1 and v2 tags from MP3 files.

123Tag 5.7.0
Alberto Farinelli

123Tag is an easy-to-use MP3 Tag editor and file renamer, simple to use to manage the information stored into MP3 files (ID3v1 and ID3v2 Tags).

AudioGrail (formerly K-MP3) 6.8.2.134 Beta
Kyle Katarn

AudioGrail (Formerly K-MP3) is the swiss army knife for everthing that is related to audio files (MP3, MPC, OGG.

Multi ID3 Tag Editor 1.3b1
Alex Buturuga

Multi ID3 Tag Editor is an ID3 Tag editor, file renamer and mover for several files with just a simple mouse click.

Mp3nity 1.1
Littlelan

Mp3nity is an intelligent mp3 tag editor and manager specially designed for those who deal with lots and lots of mp3s.