JetStart Free 4.4

JetStart Free - a program that launches start menu shortcuts.

Developer:
Code Sector Inc.
software by Code Sector Inc. →
Price:
0.00
License:
Freeware
File size:
0K
Language:
OS:
Windows Vista

(?)

Rating:

0

/5 (0 votes)
JetStart Free - a program that launches start menu shortcuts.

Tired of digging into crowded Start Menu? JetStart offers you a quick access to categorized Start Menu shortcuts, recently launched programs and system commands.

Just point your mouse to the Start Menu button! You can also place your most used programs and documents into the handy toolbar and quickly run any program by typing few starting letters. And best of all, it's completely free!

Just type a few letters and JetStart will show matching applications as you type. Once you've found a desired program, you can immediately launch, drag to desktop or unistall it.

JetStart Toolbar allows you to quckly access your favorite Windows applications.

JetStart lets you reorder buttons on your taskbar the way you like. Just drag and drop any taskbar button to the new location with mouse.


JetStart Free features
Organize shortcuts with drag and drop

Launch multiple programs at once

Activated by hot-key or from the tray icon

Drag files from Toolbar to Desktop, etc

Convenient keyboard interface

Docking to the screen edges

Freely resizeable with mouse

tags

start menu drag and and drop with mouse letters and you can menu shortcuts programs and jetstart free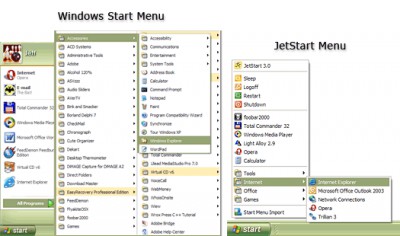 Download JetStart Free 4.4
Authors software

JetStart Free 4.4
Code Sector Inc.

JetStart Free - a program that launches start menu shortcuts.
Similar software

JetStart Free 4.4
Code Sector Inc.

JetStart Free - a program that launches start menu shortcuts.

Fast Launcher 3.3 Beta 1
DvaSoft

Fast Launcher is a nice replacement for Quick Launch and Start Menu.

8start Launcher 1.4.1
8start.com

New era of desktop, start menu and quick launch is coming by a free application launcher 8start launcher.

Free Launch Bar 2.0
TrueSoft

Free Launch Bar is a Free replacement for the standard Quick Launch bar.

H-menu 5.0
HdV, Vriescheloo

H-Menu is a fully configurable launcher, yet it remains invisible until activated with the mouse.

Kana Launcher 3.0.0.29
Kana Solution

Kana Launcher is a Windows program that can be used to launch your favorite software or documents efficiently.

Paraben's Easy Access 1.3
Paraben Corporation

Organize and access groups of programs quickly and easily with Paraben's Easy Access.

DE Launcher 2.2
DEngine software

DE Launcher is a desktop tool that will provide an alternative method of launching your favorite programs, documents and URLs and starting common Windows tasks.

Hidden Menu . Revision 2
CoPos

Hidden Menu is the perfect solution for your need to launch programs quickly.

Vista Start Menu 6.3
OrdinarySoft

Each time you start programs from the Start menu, you use the interface that has not changed for 10 years.
Other software in this category

ShutDownPro 1.132
Kurt Zimmermann

ShutDownPro let you shutdown, reboot, or logoff your System.

ShutdownTray 1.3.2
VicTech Software

ShutdownTray is an application that (from your system tray) allows you quick and easy access to all of your system's power options (shutdown, restart, hibernate, screen saver, etc).

Slawdog Smart Shutdown 2005
Slawdog E-Solutions, Inc

Slawdog Smart Shutdown is a powerful network enabled shutdown utility, that allows you to shut down, log off, reboot, lock, turn off, hibernate, disconnect from the Internet or network, enter standby mode in Windows, shut down and reboot computers in your network, both manually and automatically.

dfg ShutDown XP 3.9.7
d.f.g.

A_ShutDown gives you an easy and thorough time controlled and automatic way to shutdown, restart or log off your system with optional power off and shutdown forcing (no questioning).

XP SysPad 7.9
xtort.net

XP Syspad provides quick access to many Windows management features, as well as programs, system folders and more, without having to use the Control Panel or click through multiple menus to get there.