FotoTagger 2.13

FotoTagger is an application for annotating JPEG images quickly and easily.

Developer:
Cogitum LC
software by Cogitum LC →
Price:
0.00
License:
Freeware
File size:
0K
Language:
OS:
Windows XP/Vista

(?)

Rating:

0

/5 (0 votes)
FotoTagger is an application for annotating JPEG images quickly and easily.

Place on an image location-specific annotation notes that point to people or other elements. Identify people and objects. Mark notable details.

Comment specific objects. Instantly find a particular person, object, or comment among image collections. Do you use Flickr? Annotate pictures with FotoTagger and upload them to your Flickr account in a few seconds.

FotoTagger annotations are preserved and converted to Flickr notes so you can edit them by using Flickr online tools. You can also download images from Flickr with Flickr notes transformed to FotoTagger annotations and edit them with FotoTagger!

Multiple image upload and download are supported. You can also enjoy other means for sharing annotated images. FotoTagger lets you publish annotated pictures to blogs at Blogger.com and LiveJournal, as well as share annotated images through Web and email.

Annotations do not change an original image so moving and sharing files keep annotations intact.


FotoTagger features
Customize font and color of annotations and callouts

Link annotations to Web resources

Identify boundaries of compound objects

Perform basic image editing operations, including resizing and rotation

Find a picture by a text typed into an annotation note

JPEG images are supported


Limitations
15 days trial

tags

you can annotations and are supported annotated images can also edit them fototagger annotations flickr notes jpeg images with fototagger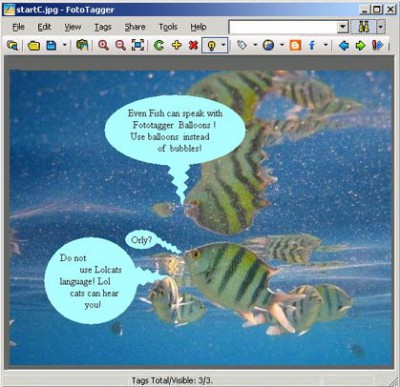 Download FotoTagger 2.13
Authors software

Cogitum Co-Citer 1.0
Cogitum LC

Cogitum Co-Citer is a tool for creating and managing collections of texts from the Internet.

Image Co-Tracker 2.0
Cogitum LC

Image Co-Tracker is a unique tool for creating and managing collections of images from the Internet.

FotoTagger 2.13
Cogitum LC

FotoTagger is an application for annotating JPEG images quickly and easily.
Similar software

FotoTagger 2.13
Cogitum LC

FotoTagger is an application for annotating JPEG images quickly and easily.

Flickr Viewr 0.2
Svein Erik Storkås

Flickr Viewr is a free and useful application for viewing images from Flickr.

Annozilla 0.6.7
Matthew Wilson

This is the the Annozilla project, designed to view and create annotations associated with a web page, as defined by the W3C Annotea project.

Flickr Desktop Wallpaper 1.0
Stefano Falda

Flickr Desktop Wallpaper allows you to create a dynamic desktop wallpaper, using random images from a Flickr account Flickr Desktop Wallpaper is born by chance, because I read on a blog this post showing a wallpaper made with a grid of photos taken from Flickr.

Flickr Sidebar 0.2
Richard Klein

The Flickr sidebar Firefox extension is used for viewing and searching photo lists.

UploadrXL 0.9.0.38638
Rutger Smit

UploadrXL is an application which you can use for uploading one or more pictures to Flickr and add them immediately to your Sets of Groups.

PhotoCafe 6.0.1
Andy Morrison

With PhotoCafe software you will be able to create a slide show from several different sources, and there are lots of ways you can customize the screen saver.

StickyNotes 4074
Stanimir Stoyanov

The Annotations Framework, which is used by StickyNotes, will support some different storage options for saving annotation data — either as XML data in a text file, within a Microsoft Windows File System, code-named "WinFS" file store, within a compound document file, or through an XML stream.

Fireflix 0.0.6.1
Klever Group

I am not into buzzwords.

JMicroVision 1.2.5
Nicolas Roduit

JMicroVision is an application designed to describe, measure, quantify and classify components of all types of images.
Other software in this category

PhotoCDBrowser 2.96a
M. Onyshchuk

PhotoCDBrowser is an application used to create and view your archives in TIFF, JPEG, PCX, TGA, EPS formats.

SlowView v1.0 RC2 Updated
Nikolaus Brennig

SlowView is a free multimedia viewer.

Pawbrowse 1.1 beta 2
Pawsoft

Pawbrowse is an advanced picture browsing and viewing software.

Visualizer Image Browser 2.3
Darren Wilden

Visualizer is the Smart looking image browser with which you can import desktop screen shots, edit and optimize images, save as HTML documents, save as BMP or JPG, add effects or browse through 20 different types of images.

PhotoView 1.00
SoftBoard

PhotoView is a compact and easy tool for viewing pictures.