Fomine LAN Chat 1.2

Fomine LAN Chat is tiny and easy-to-use instant messaging software.

Developer:
Fomine Software
software by Fomine Software →
Price:
0.00
License:
Freeware
File size:
0K
Language:
OS:
Windows Vista

(?)

Rating:

0

/5 (0 votes)
Fomine LAN Chat is tiny and easy-to-use instant messaging software.
LAN Chat creates only one chat room, that is why it has very clear interface. The LAN Chat's interface is one window with list of chat participants, chat messages and outgoing message. And you can also set to your status online, away or disconnected in this window.

The LAN Chat will use same network protocol like a Winpopup LAN Messenger, OfficePopup and Net Send GUI. So you can chat with users of Winpopup LAN Messenger and receive private messages from users of OfficePopup and Net Send GUI.

Silent installation is useful for network administrators who wish to install LAN Chat without user intervention so they can perform the operation quickly over any number of computers.
tags

lan chat and net net send send gui officepopup and lan messenger the lan you can winpopup lan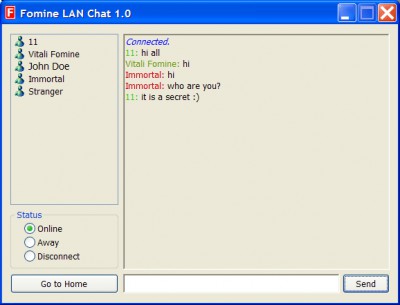 Download Fomine LAN Chat 1.2
Authors software

AceHide Free 1.7
FOMINE SOFTWARE

Situation: You find yourself on your office computer reading something enjoyable, writing a personal letter, or simply surfing the web.

WinPopup Speak! 1.0
FOMINE SOFTWARE

WinPopup Speak is free add-on for Fomine WinPopup.

Fomine NetSend 1.4
FOMINE SOFTWARE

Fomine NetSend is a package that contains two utility tools for sending messages via SMB protocol.

Fomine LAN Chat 1.2
Fomine Software

Fomine LAN Chat is tiny and easy-to-use instant messaging software.

Start Live Chat 1.0
Fomine Software

Start Live Chat was designed as a freeware web chat application.
Similar software

Fomine LAN Chat 1.2
Fomine Software

Fomine LAN Chat is tiny and easy-to-use instant messaging software.

NCN Chat 1.0.0829
NCN Software

NCN Chat is a chat room styled Instant Messenger for Local Area Networks.

Network Chat 1.41
Global DevTech

Network Chat is a LAN chat tool that offers a clean interface, private messages, emoticons, sounds and privacy all in an Internet-style chat window.

BORGChat 1.0.0.438
Ionut Cioflan (IOn)

BORGChat is the most complete LAN Chat application on the Internet.

UMD Chat 2.0.3.4
UMD group

UMD Chat is a very useful and free lan network chat software.

LanToucher Network Chat 1.2.11
Vital Sound Laboratory

LanToucher Network Chat is small and easy-to-use chat software for your small office or home LAN (Local Area Network).

Xeo Chat 1.8
Lee Mainwaring

Xeo Chat is an easy to use chat-over-LAN application requiring no installation.

Loveline Video Messenger 4.1.3
WWB and DynaScene and Zoopsie Media

Using your Web Cam for Audio/Video Chat with others online, your Loveline Personals Video Messenger provides premiere connections to facilitate these meetings Instant (Private) Messages or Chat Rooms.

P2P Messenger 1.0.2
Code Generation

P2P Messenger is an alternative instant messaging program.

LNChat - Local Network Chat 1.0
David Aguirre Grazio

LNChat - Local Network Chat is the best solution for the office and home environment communications.
Other software in this category

WebChat - Communicator 1.2.27
William Candelo a.

The visual Chat and browser where the Chat Room are Internet sites Java(tm) WebChat - all INTERNET is HERE !!! - and free.

EckoMSN 3.0
Matt Holwood

EckoMSN Is a MSN Messenger addon.

WarRoom 1.0
The Iron(FE)-Works

The WarRoom is an ICQ Chat/IRC replacement program that is much more compact and efficient! Great to hold private online meetings!! This is for the server portion of the software.

MSN Color Changer 2.0
Brendan Thomas

MSN Color Changer allows you to change the font color in your MSN Instant Messenger Window to any color you choose.

MSN Contact Enlarger 2.6
Brendan Thomas and Matty

Are you annoyed that your contact list has reached its fullest allowence? You really want to add another contact, but you have to delete someone before you can do it? Well then download this little add-on, and that problem will be solved.