Flipbook Printer 1.10.01

Flipbook Printer is a software that helps you to create Flipbooks from any AVI movie.

Developer:
Mouser
software by Mouser →
Price:
0.00
License:
Freeware
File size:
0K
Language:
OS:
Windows Vista

(?)

Rating:

0

/5 (0 votes)
Flipbook Printer is a software that helps you to create Flipbooks from any AVI movie.

Flipbook Printer is a program that lets you make your own printed
"Flipbooks" from avi movie files using business cards.
tags

avi movie flipbooks from flipbook printer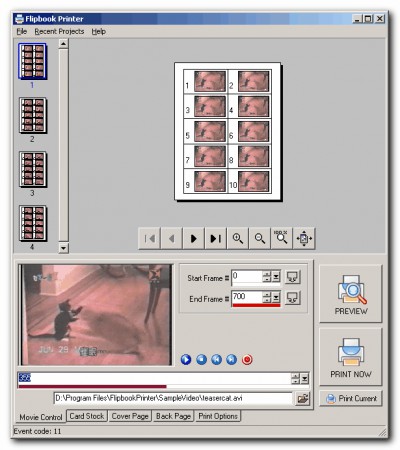 Download Flipbook Printer 1.10.01

Download Flipbook Printer 1.10.01

Authors software

Find and Run Robot 2.233.01
Mouser

Find and Run Robot is a program for keyboard maniacs: Find and Run Robot will help you rapidly find applications or documents from within the depths of the Start Menu (or other folders).

Process Tamer 2.11.01
Mouser

There are many times when a process will hog your cpu, such as when converting audio/video files, or working with compressed archives.

BrowserTraySwitch 1.02.01
Mouser

BrowserTraySwitch is a very tiny little system tray application that helpsyou quickly change your default browser.

Unicode Image Maker 1.13.01
Mouser

Unicode Image Maker is made for international users and is designed for situations when you need to use unicode text in a program but its not supported natively; Unicode Image Maker can be used to create a graphics image of your unicode text and embed the image instead Supports transparency and embeds the richtext within the image for later editing.

Clipboard Help+Spell 2.42.01
Mouser

Database stores history of all past text clipboard entries for easy viewing, modification and search.
Similar software

Flipbook Printer 1.10.01
Mouser

Flipbook Printer is a software that helps you to create Flipbooks from any AVI movie.
FlipViewer 3.7.3.347
Flipviewer.com

FlipViewer is a FlipBook Viewer that lets you view documents, such as web pages, albums, manuals, catalogs (collectively called FlipBooks) created using FlipPublisher, FlipAlbum or any products that create OEB Package Format files (OPF).
Serendipity Blackmagic 3.1
Serendipity Software Pty Ltd

Serendipity Blackmagic will make proofs from ripped files.

Serendipity Megarip 4.1
Serendipity Software Pty Ltd

Serendipity Megarip will print brilliant exhibition materials fast for you.

Send To Printer 1.0
BTT Software

Send To Printer is a simple software that enables files to be sent directly to a printer.

Printer Discovery Tool 1.0
Mattastic Software

Printer Discovery Tool Pro is a useful printer utilty that helps you to search and find printers.

PDFunny Printer Free 1.0
Rigorini

PDFunny is a free and easy-to-use printer that allows you to make PDF files from every application you use.

Printer reports 1.02
Ivan Ormanzhi

Printer reports - is an application for reception of the reports about use of the network printer.

PrintFile 2.1.5
Peter Lerup

PrintFile is a freeware MS Windows solution that will allow you to print files fast and easily.

PrintPRNtoPrinter 1.0
Nunya Business

PrintPRNtoPrinter allows you to send a PRN file (generated by printing to a printer with its port marked as FILE) to any printer installed on the system this software is run on.
Other software in this category

SetRes 2.1
Ian Sharpe

With SetRes you can set the screen resolution, colour depth and refresh rate from the command line or a shortcut.

Nokia Monitor Test 1.0.0.1
Nokia

Nokia Test is a collection of test sthat can be used to check CRT monitor performance.

QRes 1.1
AK Software

Command line utility to change screen resolution, color depth and refresh rate.

Trap's Calc 6.0
Roberto Milani

Trap's Calc is used to take the bitrate needed by video editing to compress Video source into one or two CDs.

JPGVideo 1.05.0.0
NDrW

JPGVideo will create a video file from a series of JPG Files which can be from any source, as long as they are all the same size, but generally these will be from a Webcam.