DigitalAlbums 2.0.5

DigitalAlbums is suite of 3 applications: 1.

Developer:
Zorik Galstyan
software by Zorik Galstyan →
Price:
0.00
License:
Freeware
File size:
0K
Language:
OS:
Windows Vista

(?)

Rating:

0

/5 (0 votes)
DigitalAlbums is suite of 3 applications:

1. The Browser - Exploring the computer discs with variable size thumbnail. Index discs. Create virtual albums. Batch resize, grayscale, rotate, flip, watermark. Create movie.
2. The Viewer - View photos with real size or rotated, resized. Run slideshow.
3. The NoRedEyes - Remove Red Eye effect

The Browser
Using the Browser the user can browse the computer discs for image files like in windows explorer (see supported file formats at the end of this page). Additionally it is possible to index image folders to fast access them. The user can select to hide some image folders in index, so only the folders he need to access will be shown in index folder tree. Also the user can create virtual albums and copy/paste or drag & drop photo files from disc folders there. No real copying will be done. Just linking files with virtual albums. The right pane will show image files with variable size thumbnails (from 60x45 to 360x270 pixels). Thumbnail size is easily adjustable For every thumbnail the user can open the Viewer or NoRedEyes . It is possible to add descriptions to files.

The user can select some files then
1. Batch resize - It is possible to select more than one target sizes then do resizing
2. Batch grayscale. Grayscale means creating black and white images.
3. Batch rotate/flip . rotate photos by 90,180,270 , flip horizontally or vertically.
4. Batch watermark - The user can select some picture to apply as a watermark source or(and) some text. The text itself, its size, color and color fluctuation are selectable things . Watermark position is also selectable. The watermark text will be shown in dialog at real size.
5. Create movie - The user can create movies with very smooth transition effects. The picture size and transition effect groups are selectable value. To create movies the user must at first select the transition effects to be used in movie. Transition effects can be selected in dialog where also possible to see how each transition effect will look like.

The result files of bath resize, grayscale, rotate, flip, watermark will be saved on different place, in the folder the user will choose.

The Viewer
The Viewer program allows the user to see the images in their real size or rotated/resized. Also it runs slideshow (either in window or full screen) with many very smooth transition effects. There are 13 groups of transition effects, each of them presents 10-20 variations. It is possible to apply some non-linearity on transition effects making them more impressive. The groups of transitions to be used in slideshow can be selected in dialog. The viewer program also provides variable sized magnifier. The magnifier size and magnifier power are selectable via menu. When the user selects magnifier power other than 1:1 the cursor starts looking as magnifier and if cursor stops the magnified image portion is displayed.

The NoRedEyes - Red Eye remover
The NoRedEyes program helps the user to remove Red Eye effects from photos. The user places the tracker on red eye, then clicks under red color gone. The module provides also basic image manipulation tools (brightness, contrast, color, gamma adjustment). Applying such effects on files the user previously grayscaled may create photos looking very old
tags

the user user can transition effects the viewer red eye the noredeyes the browser are selectable can select rotate flip real size virtual albums magnifier power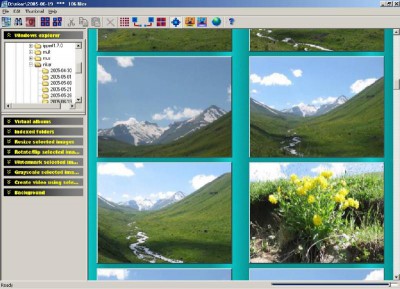 Download DigitalAlbums 2.0.5
Authors software

DigitalAlbums 2.0.5
Zorik Galstyan

DigitalAlbums is suite of 3 applications: 1.
Similar software

DigitalAlbums 2.0.5
Zorik Galstyan

DigitalAlbums is suite of 3 applications: 1.

APlus Viewwer 2.19
APlus Viewer Development Group

APlus Viewer, also called A+ Viewer, meas we want to make it be the best freeware of image browser.

DriveHQ Batch PhotoEditor 1.8
Drive Headquarters, Inc.

Batch PhotoEditor is a small yet very useful photo tool.

Firehand Ember Free Version 7.3.1
Firehand Technologies Corporation

Firehand Ember offers a pair of powerful, easy-to-use imaging products to help you manage, organize, edit, share, and show off your photos and multimedia files! Firehand Ember allows you to organize, share, and embed your graphics by dragging and dropping them into place.

PhotosReViewer 2.6.1
DigicamSoft

PhotosReViewer is a free and useful digital photography workbench utility.

Image Converter .EXE 2.0.82
SoftTech InterCorp

Image Converter .

JPEG Viewer 0.12
HMK Research

JPEG Viewer is a free and useful image viewer and editor.

Web Resizer 1.0.3.7216
Mino Studio

Web Resizer was made to convert and downscale common graphic format such as JPEG, PNG, WMF, TGA and so on.

Web Picture Creator 1.8
Web Picture Creator

Web Picture Creator is an application for creating Internet photo albums.

Gazo Digi-Book 9.0
TriWorks Corporation

This program enables you to display and manage images on a virtual album on a virtual Bookshelf.
Other software in this category

PhotoCDBrowser 2.96a
M. Onyshchuk

PhotoCDBrowser is an application used to create and view your archives in TIFF, JPEG, PCX, TGA, EPS formats.

SlowView v1.0 RC2 Updated
Nikolaus Brennig

SlowView is a free multimedia viewer.

Pawbrowse 1.1 beta 2
Pawsoft

Pawbrowse is an advanced picture browsing and viewing software.

Visualizer Image Browser 2.3
Darren Wilden

Visualizer is the Smart looking image browser with which you can import desktop screen shots, edit and optimize images, save as HTML documents, save as BMP or JPG, add effects or browse through 20 different types of images.

PhotoView 1.00
SoftBoard

PhotoView is a compact and easy tool for viewing pictures.