CHAOS Compressor 3.0

Developer:
Security Resources Group
software by Security Resources Group →
Price:
0.00
License:
Freeware
File size:
0K
Language:
OS:
Windows Vista

(?)

Rating:

0

/5 (0 votes)
tags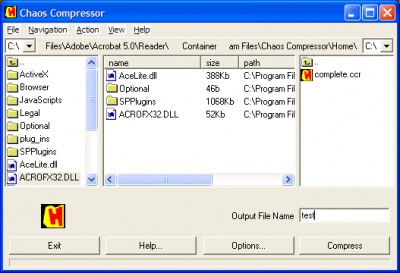 Download CHAOS Compressor 3.0
Authors software

CHAOS Shredder 3.0
Security Resources Group

CHAOS Shredder is a useful software which deletes selected files and folders, freespace, recycled bin, temporary data, temporary internet files, cookie, history, last documents list.

Able Submitter 2.2
Security Resources Group

Able Submittter was designed to save time and help Webmasters in their site promotion process to search directories and engines.

AES Free 2.5
Security Resources Group

AES Free is the program that creates self-extracting encrypted AES-files for Windows.

CHAOS Compressor 3.0
Security Resources Group



CHAOS Submitter 2.7
Security Resources Group

CHAOS Submitter is an industrial strength application designed for the more demanding Webmasters.
Similar software
Other software in this category

CleanCIH 1.6
Proland

Clean your PC from the Win95.

Klez Removal Tool 1.0.11
Symantec Corporation

W32.

WinImp 1.21
Technelysium

WinImp is a new file archiver which not only recognises common archive formats, but also introduces a new, high performance archive format.

Softpit PC Search Light 1.3
Goldmarc Technology AS

The softpit PC search light is a useful utility for people who need to find critical information fast and precisely on their own computer.