WebDwarf Free 2.5

Web Page authoring has never been easier or more affordable.

Developer:
Virtual Mechanics, Inc.
software by Virtual Mechanics, Inc. →
Price:
0.00
License:
Freeware
File size:
0K
Language:
OS:
Windows Vista

(?)

Rating:

0

/5 (0 votes)
Web Page authoring has never been easier or more affordable. WebDwarf Free is Virtual Mechanics' easy to use drag-and-drop webpage editor.

Features include a word processor with spell checker and link editor, built-in graphics creation and image editing, enhanced page layout including a snap-to grid and tabs, and an FTP client.

Use the graphics editor to quickly create rectangles with rounded corners, ellipses, pie shapes and polygons. Add shading and transparency. Your Titles can also be shaded and rendered.

The text editor can add your formatted text using a standard word processor style interface. Links are generated automatically by simply typing a URL or use the advanced Link Editor. Compose your page by dragging and dropping your elements to the desired location.

WebDwarf Free's enhanced page layout aids include a snap-to grid, snap-to tabs, pixel precision positioning, relative positioning, interactive rotation, stretching, skewing and moving of most elements.

When you are finished, export your webpage directly to your ISP by using the built in FTP client publisher. A 'Gather' facility will ensure that all your referenced images and files are automatically transferred..


WebDwarf Free features
WYSIWYG drag and drop editor with pixel level positioning.

Layout Guides with Snap Grid and Snap-To operations.

Alignment Toolbar with group control, relative positioning.

Text editor for entering Formatted Text, Titles and Code.

Vector editor for rectangles, ellipses, pie shapes and polygons.

Renderer for flat, linear, cylindrical, radial shading and transparency.

FTP client publisher with Gather Option.

Fully integrated support for both HTML and SVG.

Documentation, tutorials and on-line support.

tags

ftp client webdwarf free shading and and polygons and transparency text editor editor for client publisher relative positioning formatted text shapes and ellipses pie word processor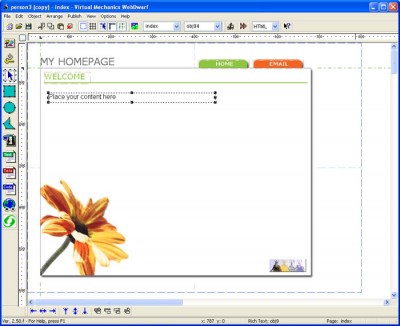 Download WebDwarf Free 2.5
Authors software

WebDwarf Free 2.5
Virtual Mechanics, Inc.

Web Page authoring has never been easier or more affordable.
Similar software

WebDwarf Free 2.5
Virtual Mechanics, Inc.

Web Page authoring has never been easier or more affordable.

Trellian Webpage 1.05
Trellian

Trellian WebPage is a free utility that enables you to create your own web-pages without having to learn complex scripting languages.

Vim 7.0
Bram Moolenar

Vim stands for Vi IMproved.

XC HTML Editor Pro 2.0
XC Software

This is an advanced Html Editor.

Gizmo Editor 2.0.9
Arainia Solutions

Gizmo Editor is an enhanced text and binary hex editor utility.

Dynamic HTML Editor Free 1.9
Lorenzi Davide

Dynamic HTML Editor is a powerful HTML (WEB page) Editor that permits you to create your site in a WYSIWYG (What You See Is What You Get) environment using both CSS or tabled layouts.

Minimal Website 0.9.9
text transformer

Minimal Website produces formatted web pages automatically from plain text files.

Document Rearranger 1
Cubic Software Design

Document Rearranger can do what other advanced text editor (even Microsoft Word) can't.

Sothink HTML Editor Free Version 2.5
SourceTec Software

Sothink HTML Editor Free Version (previous name is CutePage) supports visual and code editing modes as well as site management, built-in preview and file upload.

BPlainPro 2.2.6
Mino Studio

When you are using one of WYSIWYG editors, you need a text editor anyway to make it better.
Other software in this category

WireFusion MP3 1.2
Demicron

Extend WireFusion with this add-on to add MP3 playback capabilities to WireFusion presentations.

Trialware Submit 3.200
Trialware Professional Associa

Trialware Submit is an application that will aid the programmers to submit their trial software to software download sites.

CatsCradle 3.8
Stormdance

CatsCradle will help you translate web sites without worrying about the HTML code.

Microsoft Producer 2003 Final RC
Microsoft Corp.

Microsoft Producer is an add-on for PowerPoint which will make it easy for knowledge workers and enterprise media professionals to capture, publish and synchronize audio, video, slides, and images.

PADGen 3.1.1.50
Association of Shareware Profe

PAD is the Portable Application Description helping authors provide product descriptions and features to online sources in a standard way.