True Launcher 2.8

True Launcher is a simple, easy to use program launcher.

Developer:
TrueSoftware
software by TrueSoftware →
Price:
0.00
License:
Freeware
File size:
0K
Language:
OS:
Windows Vista

(?)

Rating:

0

/5 (0 votes)
True Launcher is a simple, easy to use program launcher. True Launcher allows you to combine your shortcuts into groups, helps to free the desktop from numerous icons, folders, and files by moving them to the True Launcher start panel.

This panel automatically hides when it is inactive and pops up when the user points to the area where it is located.

Also you can start applications via tray menu and hotkeys. True Launcher has many flexible settings.

You can add separators into True Launcher also. Separators help you to group shortcuts inside menus or the toolbar. You may configure just the way you like it.

In addition to programs, True Launcher can be used to launch URLs, Control Panel items. Control Panel, Printers, Network... and any other folder.

Now you can place them onto the True Launcher. All items on the True Launcher start panel can be accessed in one easy mouse click.

This vastly improves the management of your shortcuts and save working space on your desktop. By using True Launcher, you speed up the launching of your applications like never before.


Requirements
16MB RAM, Pentium 100 MHz, 2MB HDD

tags

true launcher the true you can control panel launcher start your shortcuts start panel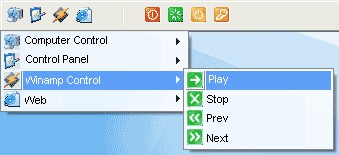 Download True Launcher 2.8
Authors software

True Launcher 2.8
TrueSoftware

True Launcher is a simple, easy to use program launcher.
Similar software

True Launcher 2.8
TrueSoftware

True Launcher is a simple, easy to use program launcher.

Micro-Sys Launcher 1.5.4
Micro-Sys

Micro-Sys Launcher is an useful and easy-to-use personal shortcut manager to launch all kinds of files and programs.

CD-Launcher PRO 1.0
Losersoft

CD-Launcher will burn this application to an MP3 CD.

Free Launcher 1.04
Free Launcher group

This program helps you to launch your applications more quickly and in your own personalized way.

8start Launcher 1.4.1
8start.com

New era of desktop, start menu and quick launch is coming by a free application launcher 8start launcher.

Ergo Launcher 2.2
Ergoworx

Ergo Launcher is an easy to use tool that will allow you to access your favorite applications, documents, URLs.

DE Launcher 2.2
DEngine software

DE Launcher is a desktop tool that will provide an alternative method of launching your favorite programs, documents and URLs and starting common Windows tasks.

RK Launcher 0.4 Beta
RaduKing

RK Launcher is an application that will allow the user to have a visually pleasing bar at the side of the screen that is used to quickly launch shortcuts.

Fast Launcher 3.3 Beta 1
DvaSoft

Fast Launcher is a nice replacement for Quick Launch and Start Menu.

Program Launcher 1.0
Johannes Wallroth

If you need to start several programs simultanously, Program Launcher can be useful to you.
Other software in this category

ShutDownPro 1.132
Kurt Zimmermann

ShutDownPro let you shutdown, reboot, or logoff your System.

ShutdownTray 1.3.2
VicTech Software

ShutdownTray is an application that (from your system tray) allows you quick and easy access to all of your system's power options (shutdown, restart, hibernate, screen saver, etc).

Slawdog Smart Shutdown 2005
Slawdog E-Solutions, Inc

Slawdog Smart Shutdown is a powerful network enabled shutdown utility, that allows you to shut down, log off, reboot, lock, turn off, hibernate, disconnect from the Internet or network, enter standby mode in Windows, shut down and reboot computers in your network, both manually and automatically.

dfg ShutDown XP 3.9.7
d.f.g.

A_ShutDown gives you an easy and thorough time controlled and automatic way to shutdown, restart or log off your system with optional power off and shutdown forcing (no questioning).

XP SysPad 7.9
xtort.net

XP Syspad provides quick access to many Windows management features, as well as programs, system folders and more, without having to use the Control Panel or click through multiple menus to get there.