Scott's JPEG Commenter 1.1

Scott's JPEG Commenter is a free utility used to insert comments into JPEG files.

Developer:
SB Software
software by SB Software →
Price:
0.00
License:
Freeware
File size:
0K
Language:
OS:
Windows XP/Vista

(?)

Rating:

0

/5 (0 votes)
Scott's JPEG Commenter is a free utility used to insert comments into JPEG files. It's meant to be fast, simple, and intuitive. The utility is free for noncommercial use. So why are JPEG comments useful? Well, they're kind of like writing on the back cover of a photograph -- you can jot down information about the image: where it was taken, who is in it, dates/times, etc.

The software is also useful to view existing JPEG comments. Many programs (such as photoshop) automatically insert a comment. You might also find comments in photos that you download from the web. Scott's JPEG commenter can also be used to remove comments from images if you have a commented image that you want to de-comment.
tags

that you jpeg comments jpeg commenter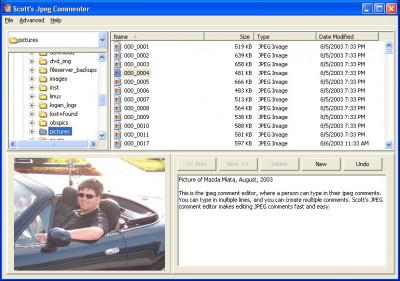 Download Scott's JPEG Commenter 1.1

Download Scott's JPEG Commenter 1.1

Authors software

Quick Number Base Converter 1.3
SB-Software

Quick Number Base Converter is a little application that sits in the windows system tray and when you click on it, allows you to quickly convert numbers between decimal, binary, hex, octal, etc.

Scotts Binary Clock 2.0
SB-Software

Scott's Binary Clock is a clock that displays the current time in binary using a LED display.

Scotts Nixie Tube Clock 1.1
SB-Software

Scott's Nixie Tube Clock is a cool looking clock for your windows desktop that looks like an old-style nixie tube clock.

Scotts Wallpaper Switcher 1.7
SB-Software

Scott's Wallpaper Switcher is a system tray tool designed to allow you to quickly switch between wallpapers on your windows desktop.

VisDir Free Disk Space Finder 1.4
SB-Software

This free user-friendly utility will help you visualize which programs on your hard drive are using too much disk space.
Similar software

Scott's JPEG Commenter 1.1
SB Software

Scott's JPEG Commenter is a free utility used to insert comments into JPEG files.

Commenter 1.07.02.98
Simon Murrell

Commenter has the capabilities to comment Delphi and C++ Builder source files (*.

Quick EXIF Writer 2.3
K. Johannesson

Quick EXIF Writer adds comments to your digital camera pictures.

NewView Graphics' File Viewer 7.3
NewView Graphics

NewView Graphics' File Viewer will browse your system and display, print, and manage images in a wide variety of popular formats.

JPEG Viewer 0.12
HMK Research

JPEG Viewer is a free and useful image viewer and editor.

PhotoComment 1.0 RC2
Blue Nine

PhotoComment is a tool that plugs into the Windows File Explorer and enables you to easily edit the EXIF comments in your digital photos.

JPEG & PNG Stripper 1.4.0.29
Steelbytes

JPEG & PNG Stripper - remove unncessary metadata from JPG/JPEG/JFIF & PNG files.

PhotoCDBrowser 2.96a
M. Onyshchuk

PhotoCDBrowser is an application used to create and view your archives in TIFF, JPEG, PCX, TGA, EPS formats.

JPEG Lossless Rotator 9.2
Anry

Have you ever thought that when you rotate a JPEG photo you lose its quality? All people usually make photos with different shot orientaton, and some photos need to be rotated.
C#CommDog 1.0.2039.30061
SoftSolutions GmbH

C#CommDog is a software development tool that detects all missing or incorrect comment sections in each C# file of a C# project (.
Other software in this category

Exifer 2.1.5. Build 263
Friedemann Schmidt

Exifer is a nearly free software (you only should send me a postcard if you're using Exifer frequently) with which you can manage the metadata (EXIF/IPTC) of pictures taken by digital cameras.

Free Digital Camera Enhancer 1.3
MediaChance.com

Free DCE does the hard job of noise reducing and automatic balance control for you.

RedEye 1.6
JDMCox

RedEye allows you to easily remove any 'red-eye' in a digital photo (caused by a camera's flash reflecting on a person's retina).

Crop It 1.0
Entrysoft

Well then you finally got that nice digital camera filled with megapixels, lots of zoom and all the latest features one can think of.

EasyExif 1.6.2
Kevin Hu : One-Nine.com

EasyExif is a photograph analysis program for Microsoft Windows using the .