ID Manager 6.9

ID Manager is a management tool of IDs and passwords.

Developer:
WoodenSoldier
software by WoodenSoldier →
Price:
0.00
License:
Freeware
File size:
0K
Language:
OS:
Windows Vista

(?)

Rating:

0

/5 (0 votes)
ID Manager is a management tool of IDs and passwords.

In the Internet world, you need to memorize a lot of IDs and passwords.

ID Manager helps you to manage many passwords and IDs in easy and secure.

Smart Paste function automaic fills your IDs and password fields on Web browser.

Don't use paper and pen to keep your passwords, use ID Manager!


ID Manager features
Simple, light, well-designerd GUI

Tree structure organizer

Automatic data input -Smart Paste-

Pasting without using clipboard

Customizable paste type

Keep issue date and expiration date

Data encrypted

Task tray operation

Search with many options

Work with browser and e-mail appication

Mask displaying

Import from and export to CSV and XML

Password generator

Font configurable

Security lock

Personal information management

English/Japanese/Chinese(Traditional) support

tags

ids and smart paste and passwords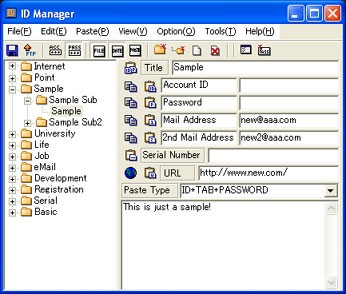 Download ID Manager 6.9
Authors software

ID Manager 6.9
WoodenSoldier

ID Manager is a management tool of IDs and passwords.

FAQ Builder 1.7
WoodenSoldier

FAQ Builder is a powerful and easy to use FAQ document management tool.
Similar software

ID Manager 6.9
WoodenSoldier

ID Manager is a management tool of IDs and passwords.

PassReminder 0.6.2
Eyecanseeyou

You would like to protect a list of passwords ? You would like to remember your passwords? PassReminder is for you! PassReminder is a free password manager.

Access Manager 2.2.65
Citi-Software Ltd

Access Manager was developed as a tool which will keep all your passwords in one, simple to use list.

pwArch 1.6
Clark Tisdale

pwArch is a easy to use password archive manager that comes with a flexible password generator.

Secure Data Organizer 2.1.133
Visware

Secure Data Organizer is a freeware and professional grade password managing tool designed to securely organize and store your sensitive information.

Echo Password Manager 1.3
Echo Software

Echo Password Manager is a clone of Symantec's Norton Password Manager 2004.

Era Password Manager 1.0.70131
Dheone Int.

Era Password Manager is a software that keep your any password secure Era Password Manager (EPM) is created specially to relieve computer users of headaches about lost passwords, typing usernames, passwords and storing securely valuable information.

Whisper32 1.16
Ivory.org

Whisper32 is a very easy-to-use Password Manager for Windows.

Password Gorilla 1.4
Frank Pilhofer

Password Gorilla is an application that helps you manage your logins and passwords.

Password Safe 3.0
Password Safe Company Ltd

Password Safe keeps your passwords and data secure with 256-bit encryption.
Other software in this category

Password Corral 4.0.3
Cygnus Productions

Password Corral is a popular freeware password manager with a clean, easy to use interface, strong encryption and that includes all the features you would expect from a comercial program.

PINs 4.50.0.86
Mirek Wójtowicz

PINs is a program for safe storing of any secure information like passwords, accounts, PINs, and more.

Password Scrambler 1.0
Onepassword.com

How many password-protected sites do you go to? Can you remember all the passwords you use, or do you end up using the same password everywhere? What if one of these sites was compromised, and your password was stolen? Have you ever frantically tried every password you know in the hope that's the right one? What if the site is recording all those attempts? Password Scrambler allows you to automatically present unique passwords to the sites you visit, generated from a unique master password you choose.

Any Password 1.44
RomanLab Software

Any Password is a tool that lets you store and arrange all your passwords, UserIDs, and related information in a tree form.

Cresotech DesktopSafe Lite 1.12
Cresotech, Inc.

Cresotech DesktopSafe is a convenient tool for safe storage of confidential information.