FREE Quick Quote 1.6

FREE Quote Watchlist Software for over 50 exchanges worldwide.

Developer:
Anfield Capital Pty Ltd
software by Anfield Capital Pty Ltd →
Price:
0.00
License:
Freeware
File size:
0K
Language:
OS:
Windows Vista

(?)

Rating:

0

/5 (0 votes)
FREE Quote Watchlist Software for over 50 exchanges worldwide. Keep track of your trades with this easy to use quote watchlist tool, data feeds are free so you can monitor your trades with zero cost.

FREE Quick Quote is a tool that allows you to manage and analyze your trading activity.

Quick Quote enables you to monitor your trading/investment portfolio with auto-refresh capabilities, this leaves you in better control as you are constantly updated with your portfolio movements.

Extending upon the capabilities of Quick Quote is our range of affordable, portfolio management software programs which enable you to manage and analyse your trading activities like never before.
tags

quick quote your trading manage and monitor your your trades trades with quote watchlist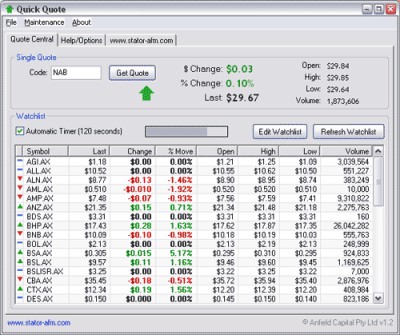 Download FREE Quick Quote 1.6
Authors software

FREE Trade Position Size Calculator 1.4
Anfield Capital Pty Ltd

This is FREE Money Management program designed to calculate trade position sizes according to various money management models.

FREE Quick Quote 1.6
Anfield Capital Pty Ltd

FREE Quote Watchlist Software for over 50 exchanges worldwide.
Similar software

FREE Quick Quote 1.6
Anfield Capital Pty Ltd

FREE Quote Watchlist Software for over 50 exchanges worldwide.

NetTrader 1.0
Open View Trading Inc.

NetTrader, the direct-access trading platform that assist investors in making trades in a more confortable way.

Doctor Quote 1.0
Soft9000.com

Doctor Quote is a collection of over 70,000 quotations, as collected by TheQuoteForToday.

Get A Quote 1.0
Quang Anh Do

Get A Quote is a free, small and reliable Wordpress plugin that displays a random quote (at your option) from QuoteDB.

Adaptive Modeler 1.5.3
Altreva, Inc.

Adaptive Modeler offers an alternative approach to trading software.

StockBuddy 3.4
David Levinson

StockBuddy is an agent-like program that resides in your Windows system tray and monitors your stock portfolio.

Quote of the day 3.0
Quote of the day is a Google Gadget that displays a Quote everyday



101Quote 1.0
TickQuest Inc.

101Quote is an easy to use free intraday stock market quote tool.

InstantCharts Messenger for Traders 2.5.2 pro
ASSISTANCE LLC.

InstantCharts Instant Messenger for Traders, this free software gives you an access to market data which is represented by tickers, quote lists, news and charts.

Traders Log Lite 1.08.02
Chris Robinson

Traders Log is a software trading diary.
Other software in this category

City'O'Scope 1.2.1
Macrofocus GmbH

Where in the world should you travel - or perhaps even relocate - to pay less, earn more, and improve your living conditions? To help you answer this complex question, Macrofocus releases City`O`Scope, a free interactive tool for visually analyzing prices and earnings around the world.

Securo - Credit Card Security and Protection for Online Shopping 2.4
Idium

Securo provides Credit Card Security & Privacy Protection for online shoppers by checking and approving shopping sites in real time.

Ariacom Business Reports 6.2a
Ariacom

Ariacom Business Reports is a database reporting and multi-dimensional analysis tool with dynamic SQL generation.

CalcuWage 2.61
kwiqMAD

CalcuWage is a small unobtrusive, fun program that calculates your wage each second as you work.

EuroCalc 2.1
alexSofts

EuroCalc is a free calculator and converter.