Cyberhawk 1.1.1.3

Cyberhawk - Next generation consumer security software: persistent zero-day threat protection made easy for everyone.

Developer:
Novatix Corporation
software by Novatix Corporation →
Price:
0.00
License:
Freeware
File size:
0K
Language:
OS:
Windows XP/Vista

(?)

Rating:

0

/5 (0 votes)
Cyberhawk - Next generation consumer security software: persistent zero-day threat protection made easy for everyone. Even novice users!

Comprehensive protection against viruses, spyware, trojans, intruders and other threats to PC security—Cyberhawk does the work of antivirus, anti-spyware and firewall programs.

For added peace of mind, Cyberhawk is designed to work alongside any current security programs you may already have installed—there is no need to uninstall your antivirus, anti-spyware, firewall or other security program before installing Cyberhawk.

Powered by Novatix's patent-pending ActiveDefense technology, Cyberhawk protects you with the highest level of out-of-the-box accuracy. No need to configure baffling, technical security settings: just turn Cyberhawk on and start blocking malware. Without false positives!

Perpetually ready for the next malware outbreak, with no signature updates or user interaction required.

Without impacting system performance, Cyberhawk runs in the background. Always up-to-date thanks to the input provided by the online Cyberhawk Secure Community, a worldwide network of users who supply feedback on emerging threats and evolving malware.


Cyberhawk features
Comprehensive PC Security against All Threats
Cyberhawk detects and protects you against all types of security threats including viruses, worms, spyware and hackers.

And it blocks the most aggressive threats of all: the Zero-Day threats that your signature-based programs have yet to develop protection against.


Best-in-Class Protection without the Hassle
Cyberhawk detects and protects you without difficult configuration decisions, intimidating messaging or time-consuming signature downloads. Our easy-to-use program and ActiveDefense technology does it all so you don't have to.


Proactive Defense against Both Known and Unknown Threats
Traditional security software like antivirus and anti-spyware offer strictly reactive protection. They can only protect you from a new threat after it has been discovered and new signatures to protect against it are developed, tested, and then released for download.

Cyberhawk does not rely on signatures to protect you; instead, it proactively shuts down any activity or behavior that might compromise the security of a PC. You are always protected, no matter how new the threat.


Complementary to Any Existing Security Applications or Suites
Since no single application is currently foolproof, Novatix believes that a layered defense provides the most complete protection.
Cyberhawk is the perfect complement to your existing antivirus, anti-spyware and firewall protection, and can run side-by-side with these programs on the same system without conflict.

While the traditional programs will protect only against known threats included in their signatures, Cyberhawk goes beyond and protects against new or unknown zero-day threats as well.


Continually Improving Protection Technology
When suspect behavior on a PC is observed by Cyberhawk, the event information is automatically reported to Novatix for analysis through a secure and anonymous connection by members of the Cyberhawk Secure Community.

So as threat strategies evolve and new security penetration tactics emerge, Cyberhawk technology will remain at the forefront of the solutions that defeat those threats.

tags

anti spyware spyware and and protects antivirus anti protects you zero day detects and the most day threats and new protect you cyberhawk detects against all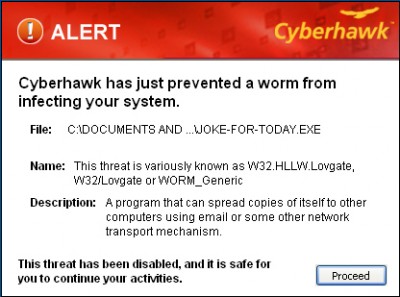 Download Cyberhawk 1.1.1.3
Authors software

Cyberhawk 1.1.1.3
Novatix Corporation

Cyberhawk - Next generation consumer security software: persistent zero-day threat protection made easy for everyone.
Similar software
Other software in this category

PopUp Killer 1.1.1.3
XFX

PopUp Killer is the original and most powerful popups destroying- machine ever created.

PopUpKill3r 1.015
Christian G

Get rid of those anoyng Pop-up Windows ! It is a good and free Software :) Limitations: - NagScreen PopUpKill3r Download PopUpKill3r Screenshots Find Related Downloads Similar freeware programs RECOMMENDED DOWNLOADS IN THIS CATEGORY ( Popup / Ad/ Spyware Blockers ) PestBlock 4.

NoAds 2006.07.28
South Bay Software

NoAds is a Windows software program that detects when Internet popup advertisements appear, and quickly closes them.

Stop-the-Pop 2.10
Sureshot

Stop-the-Pop is an aggressive pop-up blocker preventing all annoying pop-up windows from appearing as you surf the web this.

Pop-Down 2.0.1
Matthew T. Pandina

Pop-Down is a program created for Internet Explorer.