Archim 2.0

Archim is a program for drawing the graphs of all kinds of functions.

Developer:
Stochastic Lab
software by Stochastic Lab →
Price:
0.00
License:
Freeware
File size:
0K
Language:
OS:
Windows Vista

(?)

Rating:

0

/5 (0 votes)
Archim is a program for drawing the graphs of all kinds of functions. You can define a graph explicitly and parametrically, in polar and spherical coordinates, on a plane and in space (surface).

Archim will be useful for teachers and students, as well as for everyone who is interested min geometry. With Archim, you will draw the graph of any function and form, just use your imagination.Archim is a graphic tool that helps you to draw graphs.

Archim has a wizard making it easier to draw graphs and more than 30 various sample functions. Sends us the formula of a beautiful and original graph and you will get Archim for free!

Navigation:
The working area of the program can be conventionally divided into two parts: you enter your formula and its parameters in the "Function" area, while the graph of this function is drawn in the "Graph" section.

You can use your mouse to rotate the graph in any direction (with the left mouse button, you can rotate it left/right and up/down, while with the right mouse button, you can rotate it clockwise and counterclockwise). You can change the color of the graph and the method of filling (for a surface), background and grid colors, the scale and perspective level of the displayed graph.


Requirements
Pentium II

5Mb free space on HDD

32Mb RAM

tags

you can the graph mouse button can rotate button you with the draw graphs you will use your graph and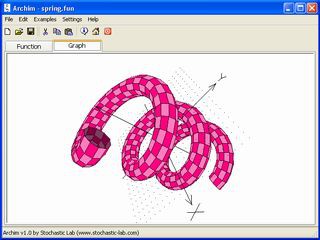 Download Archim 2.0
Authors software

Archim 2.0
Stochastic Lab

Archim is a program for drawing the graphs of all kinds of functions.
Similar software

Archim 2.0
Stochastic Lab

Archim is a program for drawing the graphs of all kinds of functions.

Arnab's Graph Explorer 3.02
Arnab

Graph Explorer is an educational software which was designed to help you produce interactive mathematical graphs.

Graph 4.4.2
Ivan Johansen

Graph is an open source application used to draw mathematical graphs in a coordinate system.

Descartes 1.2
Walter Milner

Descartes is a small software which you can use to draw graphs of mathematical functions.

Digi Graph 1.0
KnightTrek Production

Digi Graph is digital graph paper, that enables to draw on graph paper on screen, and save and print your drawings.

Function Analyzer 1.0
Lorenzi Davide

Function Analyzer is a program that allows you to see the graph of a function like f(x)=.

Graph It! 1.0
Sanjeev Sharma

Graph It! is a freeware and open sourced program which can help high school students to plot and study all types of linear, quadratic etc.

GE-Graph 2.2
Sgrillo

GE-Graph helps you to make graph into Google Earth to illustrate your presentations, and papers.

yoshinoGraph 1.0 beta2
Harukazu Yoshino

yoshinoGRAPH is a free, small and fast scientific graph software for data analysis and presentation.

Math Mechanixs 1.5.0.3
Math Mechanixs, LLC.

Math Mechanixs is an easy to use general purpose free math software solution.
Other software in this category

Smoke Attack 1.0
Blackpencil Entertainment AG

In this smoking-risk awareness game from the swiss federal office of public health, you are navigating the caracter "Oxy" through offices.

Quiz of the States 1.0 Rev. 2
States Liberty Party

Makes learning enjoyable.

AIDA 4.3a
AIDA

AIDA will allow users the chance to easily simulate the effects of changes in insulin and diet on the blood glucose profiles of various example 'virtual diabetic patients'.

nVIDIA EarthViewer 3D 1.4.2
nVIDIA

EarthViewer 3D harnesses the power of NVIDIA GPUs.

ViziFlow 2.3
John Beeteson

ViziFlow is a program that allows the fast fluid flow modeling, and the visualization of pressure distribution and streamlines.